Small Business Expert and Internet Publisher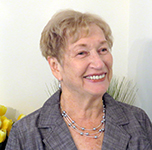 Janet Attard is the owner of Attard Communications, Inc., an Internet publishing and content creation company.  She is the founder of Business Know-How, a website now powered by ZenBusiness. Created to arm small and home businesses with the street-smart strategies needed to succeed in a changing world, Business Know-How® provides how-to information and problem-solving strategies for starting, marketing, financing, and running small and home businesses. Janet's content development, content marketing and SEO skills helped the site reach millions of people annually without any advertising.
Read Janet's blog and sign up for her News and Views newsletter for additional small and home business information.
Prior to creating Businessknowhow.com, Janet ran popular forums and communities on America Online, MSN and the General Electric Network for Information Exchange (GEnie). Her company was also a contractor and subcontractor for the US Air Force Office of Small Business for many years, overseeing the development and management of their small business outreach site.
See this YouTube video for more information about Janet, early online services, early electronic equipment, and the sites Janet ran. The video documents her first 30 years online.
Small and Home Business Author
Janet is the author of two widely praised books for small businesses and home businesses: The Home Office and Small Business Answer Book, published by Henry Holt & Company, and Business Know-How: An Operational Guide For Home-Based and Micro-Sized Businesses with Limited Budgets, published by Adams Media. (The Answer Book was a Fortune Book Club Main Selection when it was first published.) Janet has written a number of other books and articles covering a wide range of small business topics including sales and marketing, business startup, hiring employees, business operations, time management and human resources.
Over the years, she has written for and been featured in dozens of newspapers, magazines and online websites and books. Among them: Newsday, The Wall Street Journal Startup Journal, Costco Connection, Vistaprint, Forbes, Entrepreneur, AARP website, Insureon blog, and Home Business Magazine.
Before starting her own business, she worked as a writer and editor for a daily newspaper and on several other publications.
Business Know-How ® is a trademark of Zenbusiness.